LITTLE GIB PRESENTATION – The following information was compiled by Suzanne Madison in preparation for a presentation at a monthly Genealogical Society meeting on 4/24/23. The Wilmington News Journal story is available online by clicking here.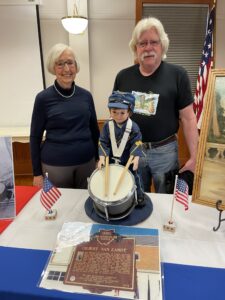 IN MID NOVEMBER LAST YEAR, JAMES ARMSTRONG , PRESIDENT OF THE PORT WILLIAM SENIOR CENTER BROUGHT A LITTLE DOLL REPRESENTING LITTLE GIB TO THE MUSEUM IN UNIFORM WITH DRUM.  MADE BY PHYLLIS GEICHMAN IT HAD BEEN GIVEN TO THE PORT WILLIAM SENIOR CENTER.  THE CENTER DONATED GIB  TO THE CLINTON COUNTY HISTORY CENTER.  WHEN I SAW THAT DOLL, I DECIDED TO LEARN MORE ABOUT "LITTLE GIB".

MRS. GEICHMAN WON AN AWARD AT THE DAYTON ART SHOW SOME TIME AGO FOR HER ENTRY OF THE DOLL.

THE INFORMATION THAT FOLLOWS ABOUT LITTLE GIB HAS BEEN GLEANED FROM SOME VARIOUS SOURCES.  THE MOST INFORMATION THAT I HAVE USED CAME FROM A SERIES OF ARTICLES THAT APPEARED IN THE WILMINGTON NEWS-JOURNAL IN APRIL 1938 WITH THE PERMISSION OF THE XENIA GAZETTE WHERE THE ORIGINAL SERIES APPEARED, WRITTEN BY  J. F. ORR, XENIA'S POSTMASTER.  MR. ORR'S ARTICLES WERE A RESULT OF PERSONAL INTERVIEWS WITH GILBERT VAN ZANDT WHO AT THAT TIME WAS 88 YEARS OF AGE.  GIB PROVIDED ASPECTS ABOUT CIVIL WAR BATTLES WITH HIS OBSERVATIONS, OPINIONS AND PARTICIPATION.   I ALSO WAS LENT A BOOK WRITTEN BY MARILYN WEYMOUTH SEGUIN  ENTITILED

GILBERT VAN ZANDT.

  A PLEASANT READ – WITH AN INTRO WRITTEN BY GARY KERSEY.
The story of Gilbert Van Zandt is that of a little boy, who, without the thought of doing anything great or spectacular, really accomplished one of the most outstanding and notable youthful achievements in American History.  The stories of our wars are full of the heroic acts of men – and women but there have been few boys who played the part of men.
He came of good fighting stock.  Some of his ancestors were in the Revolutionary War: others in the war of 1812.  His father John Van Zandt enlisted as did Gilbert in Company D, 79th Division, of which he became a Sergeant; and his father also had four brothers who served in the Union Army, and his mother two brothers, the latter one was a prisoner in the horrendous Libby Prison for 9 months.  So, we find the little boy with the soldier background at the age to 10 years and several months attending the village school in Port William.  The war drums had begun throbbing in his native village, and the fighting blood was moving through the veins of the little school boy.  The following,  written by Marion Miller was published in the Chicago Inter Ocean in 1896:
"In the summer of 1862 a certain Lieutenant Elwood came with a six-mule team and three or four soldiers, recruiting for the army, into the little country town of Port William in Clinton County, Ohio.  A bright little fellow by the name of Gilbert Van Zandt, a native to the place volunteered to drum for the Soldier's meeting held in the old brick school-house, and at its close the Lieutenant tossed him a 50 cent piece, the first money the boy ever earned.
He was then taken over the countryside to drum for recruits and, imagining that a soldier's life was a continuous succession of such pleasant duties, he then on august 6, 1862 at the age of 10 years, 7 months and 16 days, enlisted in the same Infantry as his father and uncles as the Infantry drummer. He became engaged in the most delightful task at which he was adept – drumming.  He drummed in the Regimental band as well as in the field, and became the pet and pride of the regiment.  
Gilbert's Mother never really intended that her little boy should get into the war.  The boy's Father seemingly had no thought that the momentary impulse of the drummer boy would persist.  But neither the father nor his mother knew the grit of "Little Gib". And he stuck it out until the end!
"Little Gib" as he would be called, marched away with the recruits at the head of Company D, drumming to "beat the band"- the envy, no doubt how all the small boys in the neighborhood and we find him at Camp Dennison.  There they were inducted into service as a part of the 79th Ohio Volunteer Infantry with H. G. Kennett of Cincinnati as Colonel and Azariah W. Doan of Wilmington as Lieutenant Colonel.
At Dennison, he was issued a blue wool coat with brass buttons but the coat was far too big for him so he asked  his Mother  to make a uniform for him that was his size.  Col. Kennett, commander of the 79th, regarded the small boy in front of him dressed in the uniform his mother had made.  "SIR, I WISH TO APPLY FOR A MUSKET SO THAT I MIGHT BE A SOLDIER WHEN THE BATTLE BEGINS". Kennett replied but you are a drummer and besides army regulations do not permit anyone under 18 to carry a gun.  Gib replied- THEN I SHOULD NEED A SWORD.  The Colonel drew out his saber and stood its point on the ground beside Gib.  The hilt of the weapon reached top of Gib's kepi (hat). 
From Camp Dennison they were sent campaigning into Kentucky.  They did quite a good deal of skirmishing in that state and aided in holding Kentucky in the Union. 
 One of the other drummers warned Gib to watch out for snipers.  Gib thought a sniper was some kind of snake and trod carefully, thinking a Kentucky snake was no different than an Ohio snake.  Actually, a sniper's prime target was a drummer or flag bearer – lose a drummer or flag bearer and all hell breaks loose.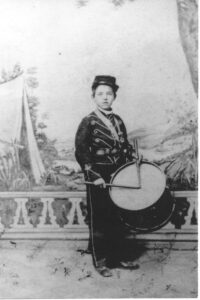 BILLY AND BANJO
"Name's William Baner.  Friends call me Billy.  Gib recognized him as Lt. Col. Doan's new orderly. Billy was leading a beautiful gray mare   –BETSY – that was Doan's favorite mount.  Turns out that Gib took care of Betsy while at Camp Dennison.  The story is he took a piece of hardtack (a  3 inch square dry cracker made from flour and water) and offered it to the mare.  She sniffed and turned away and Gib and Billy chuckled.  Everyone knows,  even horses apparently, that the hard crackers had to be soaked before you could eat them.  Billy related that he actually bit into a hardtack once and durn'd if wasn't soft.  A worm?  Nope – a nail replied Billy.  Gib ended up riding Betsy together with Pap Doan's permission when they marched out of Louisville with a plan to find a horse for Gib to ride.  Billy had a dog named Banjo who had followed him to war.  Turns out lots of soldiers had pets, including a squirrel named Bun, and eagle named Old Abe, a screech Owl named Minerva. Billy and Gib became good friends as they rode Betsy with  Banjo at their heels.  On occasion someone would offer Billy money for Banjo – and Gib said you can't do that.  Billy assured Gib that Banjo would be back.  And  he did come back  – every time Billy sold him.
 After camp life in Louisville the regiment was moved to Nashville in preparation for the conflict in which they were to engage.  They  were there until  early spring 1864  and while in that camp the soldiers presented Gib with a fine new drum, and Col. Kennett had especially made for him in Cincinnati a little sword and presented it to him.  He carried the drum and sword through the war.  These gifts testify the esteem in which he was held by soldiers and officers.   
HERE ARE EXERPTS FROM A LETTER WRITTEN  AUGUST 1, 1863 FROM GILBERT VAN ZANDT TO THE EDITOR OF THE CLINTON REPUBLICAN, PUBLISHED IN WILMINGTON, TO MARK HIS ONE YEAR ANNIVERSARY OF SERVICE TO THE ARMY. "I have been in the army almost one year now, and have spent the time and enjoyed myself bravely.  I like to be a soldier, although we have seen some hard times.  My much esteemed friend, Colonel Doan and the rest of the officers are good and kind to me.  I won't ever forget Col. Kennett for the kindness shown to me and the little sword that he presented to me as a token of his love and respect.  And, after the war is over I will take it home and remember where I was when I received it, away down in Tennessee, a little drummer four hundred miles from my home.  There are things that I can never forget but will ever remember them, that I with the rest of the drummers beat the dead march as we marched to their last resting place.  But we think that it won't last long now until the war is over, then I will throw my drum over my shoulder and return with my father and friends to my home in Port William.  But I like to be a soldier and will see the end of the war if I live, before I come home and leave the army.  Then perhaps you can see me in Wilmington on my way home.  (THE WAR LASTED ALMOST TWO MORE YEARS.)
By the end of 1863, both the North and South were heartily weary of the war and the public was demanding in no uncertain terms that it be ended.  In January 1864 Grant and Sherman met at the Burnet House in Cincinnati to map out a plan of action.  As a result of that meeting a strategy was developed.  Troops were gathered at Chattanooga from various points for a (or the) great expedition which was about to start. The 79th Ohio with little Gib beating a drum in the band left Chattanooga on or about May 6, 1864 moving in the direction of Atlanta.  Their route led through the Chickamauga Valley where in the previous autumn three great battles had been fought:  Bloody Chickamauga, in September and Look-Out Mountain and Missionary Ridge in November. 
Many gruesome sights were witnessed by this little Ohio boy as they marched along.  The battle field at Chickamauga was a place of horror.  Gilbert related that some of the many thousands of both sides who fell in that battle had not been properly buried and that hands and feet in some instances were exposed.  Not a cheerful sight for hardened men, and less so for a small drummer boy.
They were engaged in one of the most remarkable military movements in history.  For an  entire year they were to sleep in open air and eat the roughest food, mainly produced from the country through which they were passing.
The BATTLE OF RESACA was the first of the major engagements of Sherman's Army and was participated in by Little Gib as was the case in all the major battles.  
A member of his regiment Captain Ira A. Snell of Company I states "Little Gib" though young in years was one of the most gentlemanly little fellows ever met and continued so through his service.  He was the pet of the regiment, yet with it all had no tendency to change his modest demeanor toward all with whom he came in contact.  He was used in both field and an in the brass band as drummer and was hard to beat.  He continued with the band until after the Battle of Resaca when the duties of the Regiment became too active, the marches too heavy for one so young;  so, he was detailed to act as messenger at General Wards Headquarters 3rd Division 20th Army Corps.
While on the Savanah Campaign the men captured a pony which the General decided should be turned over to Little Gib, and from that time on the youthful soldier occupied a more lofty position.  He acted as one of the General's orderlies, and proved to be one of the most valuable aides at headquarters.  By reason of being so young he did not possess the discretion of older heads; consequently, in carrying a dispatch he usually took the most direct route regardless of the danger.
While the army was marching through Midgeville, riding his new pony they passed a house where three pretty girls were standing out in front, the youngest of who was about his age.  As he approached the girls he drew rein, and engaged them in conversation despite the fact they were rebels while he was one of the hated invaders.  The youngest girls asked him asked the pony's name.  He said he had not given it a name.  "Call it my name."  What is your name Gilbert asked.  Fannie Lee was the reply and so that was her name until the day of her death in Xenia. 
At General Wards HQ he had the opportunity of seeing many of the high offices of the Army, with some whom he was personally acquainted. He describes General G.T. Ward as a typical Kentuckian fond of whiskey and horses and a choice assortment of vices which were "Liquidated" after the war when the General became converted at a revival.
Here are a few personalities and incidents which fell under Gilbert's personal notice:  KENESAR AND PAP THOMAS – this battle gave Gib a chance to meet with the well- known General George Thomas.  GENERAL SHERMAN: Gilbert has a distinct recollection of the first and only interview he had with General Sherman.  During the siege of Atlanta, we were standing there and Sherman and his staff came riding up saluted and Sherman reached into his pocket and took out a cigar.  He then looked around for a light and he saw Gib and said  Son, you are younger than I am, won't you get a light for me?  And I did and he thanked me.
THE BATTLE OF PEACH TREE CREEK was 7 miles long and Gib was sent in the heat of the battle in the middle of a corn field and the corn was high.  After starting back through the cornfield, he was spotted by rebel sharpshooters.  The little horse zigzagged through the field and they got through.
Only once was Little Gib known to cry while in the army and that was when his friend Billy Bauer, the colonel's orderly still in his teens was killed.  The colonel warned him that he had better get down or he would be shot – Billy wasn't afraid. A Rebel bullet shot him down and he told "One of the greatest sorrow of my life was the death of his Pal.  
Savannah was taken a day or two before Christmas.  The Army marched through the Carolinas and Sherman was sure Lee would surrender but not yet.  The battle at Bentonville proved to be one of the bloodiest battles of the war and the last. The war was practically over and yet to be reaped and it was a heavy prospect.  Little Gib was riding his little pony and carrying dispatches.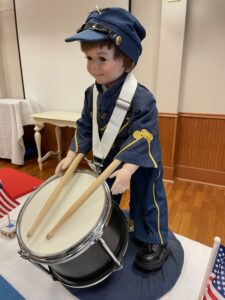 THE END OF THE WAR
Little Gib was in all this riding his little pony and carrying dispatches as occasion required.
(From the Gazette/News-Journal) Before concluding this article Gilbert wishes to pay affectionate tribute to his old Colonel Azariah W. Doan.  As has been stated Col. Doan was the LT. Col. Of the regiment as was mustered in, and until after the battle of Resaca. Col. Kennett became detached after this battle and performed duty in Washington for the "Grand Review" and to be mustered out.  Col. Doan was responsible for the regiment after the battle or Resaca and was a father to me from this time on.
Col. Doan was well known in Xenia as Judge Doan for some years after the war, he was elected Common Pleas Judge by the subdivision of which Clarke, Greene,  Clinton and Warren were the constituent counties.  Thus, he often came to Xenia to hold court and was held in high esteem.  Van Zandt stated in the news article that Doan  was a fine old Quaker lawyer with a kind and loyal heart and the boys of the 79th were devoted to him.
After protracted political discussions were over and the surrender finally accomplished with incident bitter quarrels among the officers and people of both sections which had hardly yet subsided, there was nothing more for the Union Army to do and they prepared to go home.  First they must go to Washington and then be mustered out.  The 3rd Division of the 20th Army corps marched north and the remainder of Sherman's Army and with Little Gib riding the  NO e  pony and carrying dispatches.  No quitting for him until it was all over.  And here is an appropriate place for some testimonials from officers in regard to his service:
SOME TRIBUTES FROM CONRADES
In 1898 an effort  was made by old soldiers who knew of this unparalled service to obtain for him a Medal of Honor from the War Department and in that effort letters were written to Gen. Russell A. Alger, then Secretary of War, from two of which we quote.  The authors of both letters were staff officers at division headquarters who were personally acquainted for the facts.
Copy of a letter to General Algter from Captain Speed, Taylorsville KY, Jan. 22 1898.
Honored Sir:  At the request to Captain Hardenbrook I address  letter on behalf of Gilbert Van Zandt late of Company D, 79th Ohio Voluntary Infantry.  If being a very excellent soldier at tender age entities a man to the "Medal of Honor" Van Zandt certainly deserves one.  Van Zandt enlisted in 1862 as a drummer boy, or musician at the age of 10 years.  In 1864 his regiment was with the First Brigade, Third Division, 20th Army Corps, I being the Assistant Adjutant General of the Division.  At the Atlanta Campaign, near Resaca, Georgia my attention was called to the little fellow struggling along with the regiment, and I detailed him as an orderly at Division HQ.  He was so small that he could not mount his horse; so, we had to find him a pony.  Van Zandt continued with us as an orderly to Atlanta, and stayed with the corps cut off when the balance of the army followed Hood. Or corps stayed in Atlanta.  He went with us to the sea; also, through the Carolinas to Goldsboro, and then to Washington where he was in the Grand Review of the two great armies.  We tried to be as easy on the boy but he always insisted upon doing his full duty, and he did it.  At the investment of Savannah, Georgia our division was on the left of the army on the Savannah River.  Part of the command was set over to the Ogeechee,, twelve or fifteen miles away.  I was to be recalled I wrote an order, and called for an orderly.  It was, it seems, Gilbert's turn.  This little fellow came at the summons.  I told him to send one of the men.  He said he could go anywhere any of the men could go.  So, I gave him the envelope, and right away in the night he brought back the receipt.  At Peach Tree Creek, July 20 1864, between the assaults, I saw Gen. Newton, of the 4th Corps, sitting on a log with Gilbert on his knees, caressing him.  This gives an idea how small and childish he was.  Hi writes me that his discharge, 1865, calls for a soldier thirteen years old and four feet high.  On the Atlanta campaign which lasted just four months, the division lost in killed and wounded over 40 per cent of its effective strength and Van Zandt, only 12 years old and small for his age did full duty all through.  I think he deserves it and respectfully ask a medal of your hands.  I am General, Your Obedient Servant. (Signed) John Speed Late Captain, and A.A. U.S. Vols.
Copy of letter to General Alger from Captain Harderbrook.
In behalf of Gilbert  Van Zandt, the youngest soldier of the late war, and a member of Company D, 79th Ohio Volunteer infantry, I beg of you to award him a badge of honor, for his display of bravery on the 19th of March, 1865.  During a severe engagement at Bentonville, North Carolina, the 14th Corps being repulsed by the enemy, the 20th Army Corps was summoned to the front with our division, the Third, commanded by General W.T. Ward on the left.  I was ordered to bring all available Pioneers to the front, and cut and cause a defile through the timber, and to effect and enfilading fire, with Captain Gereys' artillery to support our infantry.  This noble little trusty and brave soldier took the order; and in less than thirty minutes returned with my Pioneers.  Reporting to me during the thickest of shot and shell, just as he rode up to me, my horse being wounded by a piece of shell he took my wounded horse to the rear.  Through the thickest of shot and shell he displayed the noblest bravery, for which I beg at your hands an badge of honor; and other members of the staff will cite you noble deeds of bravery done by him. Though but a child soldier he knew no fear.  Signed William Hardenbrook, Lt, and Cpt. Co H 70th Ind. Vol. Infantry, Chief of Pioneers and Provo Marshal 3 Div. 20th Army Corps.
A few days after the Grand Review Little Gib the 70th Indiana went with his fried Lt. Harry man to call upon President Johnson.  He described his visit: "I went into the office and I can see now how it looked.  President Johnson was sitting on one side and I was standing on the other. " Of course,  he questioned me.  I told him what I came for, that I had a pony that I had ridden in the campaign, carrying dispatches, and as such, it could be viewed as contraband property and I would have to turn it over to the government.  I told the President I would like to have the pony to keep and take home with me.  He said:  "Would you rather have the pony or a commission in the Army?"  I said I would rather have the pony and go home.  He gave me pony and gave me transportation for it from Washington DC to Wilmington, Ohio.  During the conversation he said that as soon as he got through his troubles he was going to send me to West Point.  But his troubles were just beginning and destined to become worse.  He never go through with him and the appointment of West Point never came.  But this did not grieve Little Gib.  He was done with war.
THE HONORABLE DISCHARGE
A few days after his interview with President Johnson, Gilbert received his honorable discharge and was sent home.  As stated he entered service on August 6, 1862 and to all intents and purposes was a soldier from and after that date, performing and receiving pay from August 6.  But he was not regularly accepted as a soldier at the time for two reasons.
First the authorities did not feel the little boy would remain long with the regiment.  Their thought was at the first attack of homesickness they would have to send him home to his Mother.  Second they found that at his age it would be necessary to receive a special dispensation from the War Department.
Therefore, although he was marching with his regiment and was carrying on as a soldier and drawing pay from August 6, his name was not placed on the muster roll until October 31, 1862.  While this would seem to make his army record begin more than two month ate it actually did began even as October 31, his enlistment not only was earlier that that of another "boy soldier" but his age at enlistment was less.  His "Honorable Discharge" hung in a frame in his home in Kansas City reads as follows: TO WHOM IT MAY CONCERN:  KNOW YE THAT GILBERT VAN ZANDT, Drummer, of Captain Edward L. Patterson's Company D, 79th Regiment of Ohio Infantry Volunteers, who was enrolled on the 31st day of October, One thousand Eight Hundred and Sixty-two, to serve for three years of during the War is hereby discharged from the service of the United States, this 9th day pf 1865, near Washington D.C. By order of the Secretary of War.  
It said Gilbert Van Zandt was born in Clinton County in the state of Ohio; is 13 years of age, 4 feet no inches high; light complexion, blue eyes, light hair and by occupation when enrolled as a Drummer.  Signed A.W. Doan, Lt. Colonel, Commanding  Regiment.
HOME AGAIN
They sent the soldiers home on flat cars, lots of them packed so thick they could hardly lie down, and it rained on the way; and nobody cared at all.  For they were going home.  And Gilbert reached Port William in time for the Fourth of July.  He showed his discharge papers –13 years old and four feet tall, it says.  But on that day he was the biggest fellow around Port William.
HIS LIFE AFTER THE WAR
In the spring of 1862 Gilbert had been in the little country school in Port William and the only additional schooling after his return was in the same school for another three years.  At the age of seventeen he taught school in a country district in Greene County.
In about 1876 he obtained a position in a large dry-goods store of Merrick, McClure and co. in Xenia and later another well-known firm- Cooper, Hutchinson and Co. in Xenia.  His Father died in Xenia several years later.  Gilbert seldom spoke of his army service and few were aware he had served.  Nobody thought of his army service and few were aware he had served.  Nobody thought of him as the youngest soldier of the Civil War on the Union side.
After a few years Gilbert took a position with the very large firm of Marshall Field in Chicago.  His health was not good at the time and for some years he traveled out of Chicago for a glove firm; and for two years was a cowboy on a ranch in Wyoming.  They he moved to Washington DC, then moved to Paola, Kansas and worked in a dry-goods store where his Mother was making her home.  His mother died here in 1923 and he then took up his abode in Kansas City, Mo.  He died there on October 19, 1944 at Age 92.