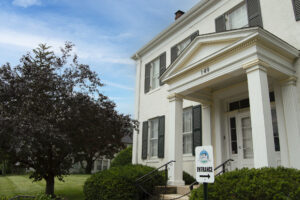 The Mission of the Historical Society
The Mission of the Clinton County Historical Society is to encourage community involvement in the preservation, education, and promotion of Clinton County history and genealogy for the benefit of all people for present and future generations. A non-profit 501(c)(3) organization, the Society was chartered in 1948 and is governed by a Board of Trustees.
Historical Society Board of Trustees
Suzanne Madison, President
Suzanne is a descendant of the Sewell and Harvey families of Clinton County.  She is a member and past president of the Clinton County Genealogical Society and member and treasurer of George Clinton Chapter DAR. A graduate of Ohio State University, she has had a career in education, corporate advertising, and market research. Her volunteer experience includes Treasurer, Junior League of Chicago, American Cancer Society Fund Raising Chair in Huntington Harbour, California and Neptune Beach, Florida.
Harry Brumbaugh, Vice President
A graduate of Blanchester High School, Harry received his Bachelor Degree from Morehead State University and his Masters in Education from Xavier University.  He taught social studies at Blanchester for 30 years, served as a member of Village Council for 6 years, and served as Mayor of Blanchester for 8 years. Harry and his wife Judy have two daughters.
Nicki Bennett, Secretary
Wilmington native, Nicki Bennett, has a passion for genealogy and local History.  She has been a teacher at Lynchburg-Clay for over twenty years.
Patricia Herron, Treasurer
Patti Herron is a shareholder in the firm of Wagenseller, Foley, Hollingsworth & Co., Certified Public Accounts.  Since 1984, she has been actively engaged in providing accounting, tax, management advisory services and financial and estate planning to a wide variety of closely held companies and individuals.  Patti has a practice emphasis in agri-business accounting and farm tax planning and advisory services.
Stan Hannah, Trustee
Stan is a retired construction executive, living in Greene Township with his wife Georgialia.  When he isn't attending History Center board meetings, you can find Stan golfing, flying, traveling or visiting his six grandchildren.
Andrew McCoy, Trustee
Andrew was born and raised in Clinton County. He graduated Wilmington High School in 1995, and later attended Ohio University and University of Dayton School of Law. Andrew has been with the Clinton County Prosecutor's Office since 2008 and the elected County Prosecutor since January 1, 2021. He is also a partner at Peelle McCoy Law Offices Company. When he am not working, he and his wife spend most of their free time attending their sons' sporting events.
Keith Orejel, Trustee
Keith Orejel is an Assistant Professor of History at Wilmington College where he teaches a variety of courses on American History, the Civil War and Reconstruction, as well as African American Studies and the Cold War. Keith splits his time between Ohio and Michigan, where his wife currently resides. He is a 2015 alumna of Columbia University where he earned his Ph.D. in History with a focus on Colonial America and the Early Republic. Keith was nominated for the 2016 Society of American Historians' Allan Nevins Prize for best-written American history dissertation. He is currently under contract with the University of Pennsylvania Press for an upcoming book: Factories in the Fallows: Rural and Small-Town Politics in the American Heartland. He has written numerous articles and papers, as well as public presentations. His most recent fellowship was as a Postdoctoral Teacher at the University of Missouri from 2015-2017. Keith is currently both a member of the American Historical Association and Business History Conference. 
Lauren Raizk, Trustee
Lauren is a lifelong resident of Wilmington. She graduated from Wilmington High School, Wilmington College, and Capital University Law School.  She became a Magistrate in the Clinton County Court of Common Pleas in 2022, and was formerly in the private practice of law for 17 years.  She is a member of Wilmington Friends Meeting.
Judge John William "Tim" Rudduck, Trustee
Tim was raised in Clinton County and received a juris doctorate from the Ohio State University's Law School.  Tim has been a judge since 1985, originally serving for fifteen years as the Clinton County Municipal Court Judge.  Since 2001 he has served on the bench of the Clinton County Common Pleas Court.
Christine Snyder, Trustee
Christine Hadley Snyder was born in the c1830 farmhouse built by her great-great-great grandfather Eli Harvey (1803-1872), which she now maintains as a family museum and event venue, and manages the family farms. She was a birthright member of Springfield Friends Meeting, where in the burial ground lie seven generations of her ancestors. She attended all twelve years at Adams Township School, and earned a B.Sc. Degree in science education from OSU and a B.A. in Spanish and a Master of Humanities from Wright State, plus additional work in veterinary practice management. She and her husband served in the Peace Corps 1964-66. She has taught high school and university, and served as CFO of her husband's veterinary clinic for 31 years. She served on the Wilmington College Board of Trustees for twelve years, the final four years as Chair. She has served as President of the Clinton County Genealogical Society and volunteers in the research library. She is currently working on the Quaker Scenic Byway project and serves on the Board of Energize Clinton. She and her husband love to travel the world, including visiting their three grown sons and six grandchildren.
Mary Kay Vance, Trustee
Mary Kay (McMillan) Vance was born and raised in Clinton County on the family's Gurneyville Road
farm. The McMillan ancestors settled in Chester Township in 1805 and the family still owns some of the
original land along with the land grant signed by George Washington. Mary Kay is a graduate of Clinton
Massie High School and Ohio Northern University's Dicke School of Business with a Bachelor of
Administration and Bachelor of Science in Business Administration. After 32 years as the City of
Wilmington's deputy auditor, she was elected and currently holds the position as Wilmington's City
Auditor. She has served locally on the boards of the American Cancer Society, The Murphy Theatre,
Main Street Wilmington, Downtown Wilmington Community Improvement Corporation, Clinton County
Adult Day Center, Local Emergency Planning Committee, and as the Public Information Officer for the
Emergency Management Agency.
Renee Walker, Trustee
Renee is a Graduate of University of Toledo, where she studied Business
Administration. She resides in Warren County with her Husband and
Daughter. Renee works at Peoples Bank in Downtown Wilmington as the Branch Manager and in her free time she enjoys the outdoors with kayaking, swimming and hiking.
Shelby Boatman
Executive Director
Graduating from Wilmington High School in 2013, Shelby is a Clinton County native. Shelby earned her Bachelor of Arts Degree in History and Political Science from Ashland University in 2017. She is an Ashbrook Scholar Alumna and Gilder Lehrman Institute of American History Scholar. Earning her Master of Arts Degree in Public History, Shelby graduated from Northern Kentucky University in 2020. She is a former Clinton County Outstanding Women Keynote Speaker, Wilmington Noon Rotarian, and past Public History Adjunct Professor at Wilmington College. Currently, she is a member of the George Clinton Chapter, Daughters of the American Revolution, contributing columnist for the Wilmington News Journal and Outstanding Women of Clinton County committee member. She currently lives in Wilmington with her family and enjoys visiting historical sites throughout the country in her spare time.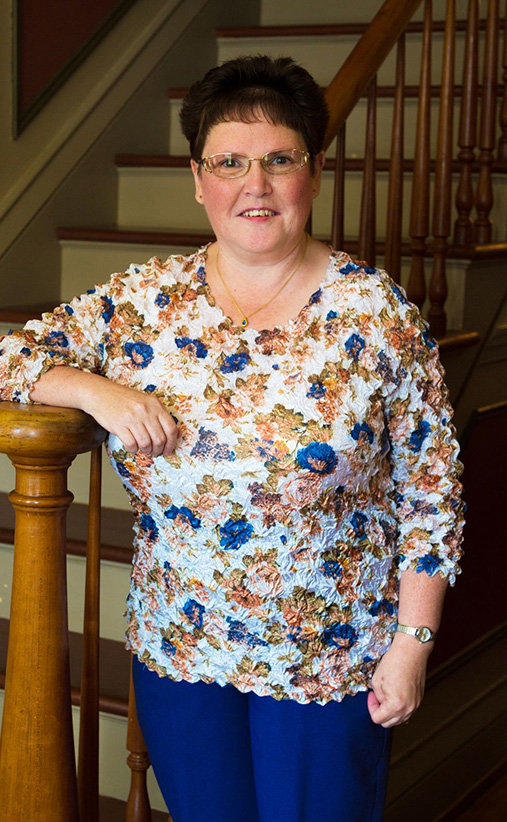 Bev Beireis
Collections Manager
A New Vienna native, Bev has resided in Clinton County most of her life. She is a graduate of East Clinton High School and attended Cincinnati Christian University. Bev worked in the banking industry for over 30 years and is a current member of the Wilmington Lions Club, serving as the editor of their bi-monthly newsletter. Bev and her husband John currently live in the Wilmington area.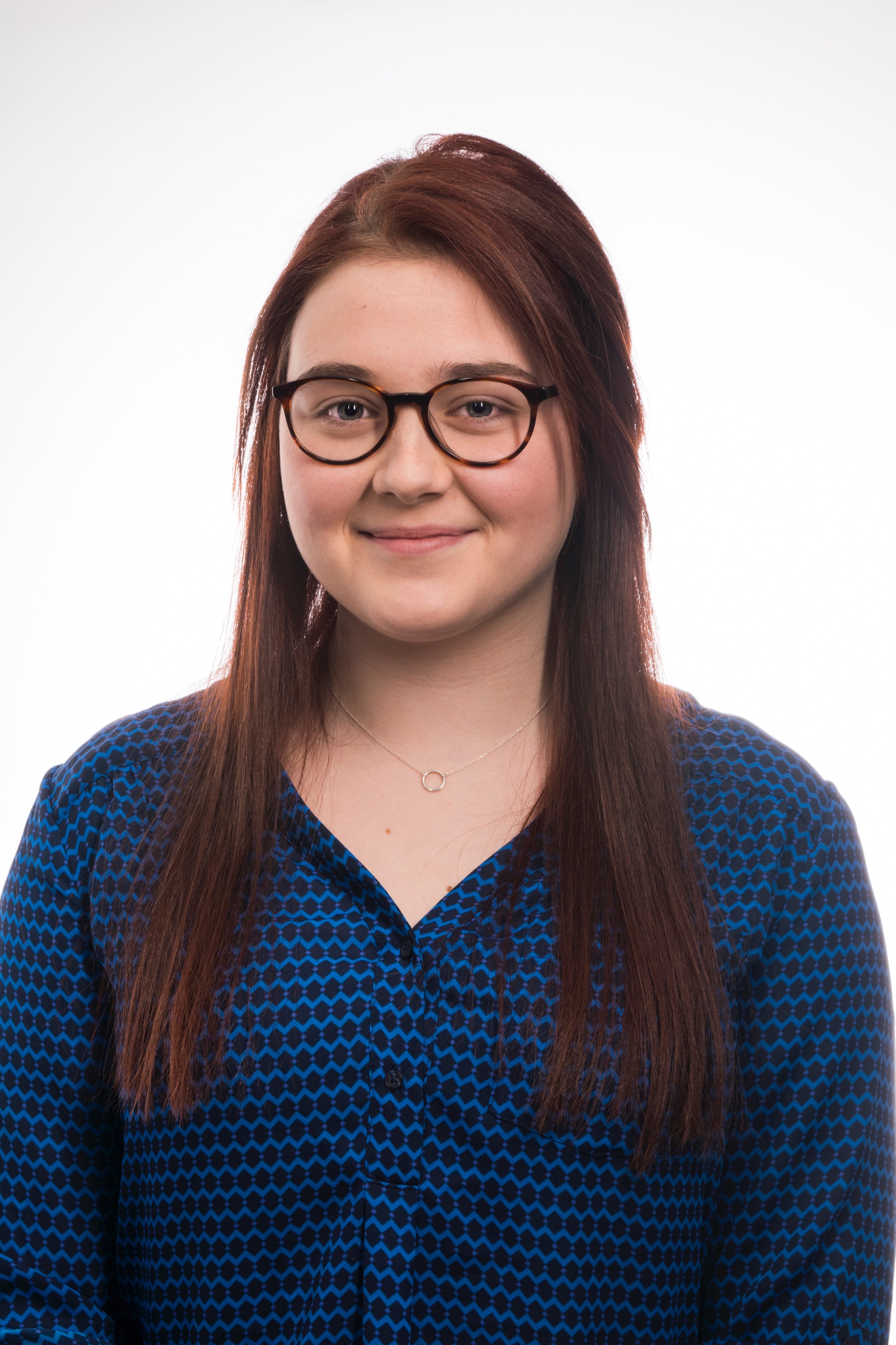 Molly Boatman
Volunteer Multimedia Specialist
Earning her Associates Degree from the School of Advertising Art, now known as the Modern College of Design, Molly resides in Wilmington with her pet Chinchillas and currently operates her own freelance graphic design business. Passionate about art, graphics, and assisting non-profits, she generously donates her time and talents to the History Center regarding social media maintenance, in-house design work, and more.
About the Museum at Rombach Place
Housed in a mid-1800s residence, Clinton County History Center has a two story touring museum. The home was purchased by Matthew Rombach (General Denver's father-in-law) in 1855, and is also referred to as Rombach Place Museum. The museum features rotating exhibits that highlight different artifacts and textiles in the collection as well as Clinton County's rich local history. Exhibits also include the largest collection of Eli Harvey, internationally known Quaker artist, paintings and sculpture; Carl Moon photographs; artifacts of General Denver's military and political career; children's toys; prehistoric Native American objects and more. For the researcher: there is an extensive collection of textiles and Quaker artifacts available for scholarly research; please provide advanced notice so these items can be pulled from storage. The Clinton County History Center is handicapped accessible, with an elevator and wheelchair if necessary.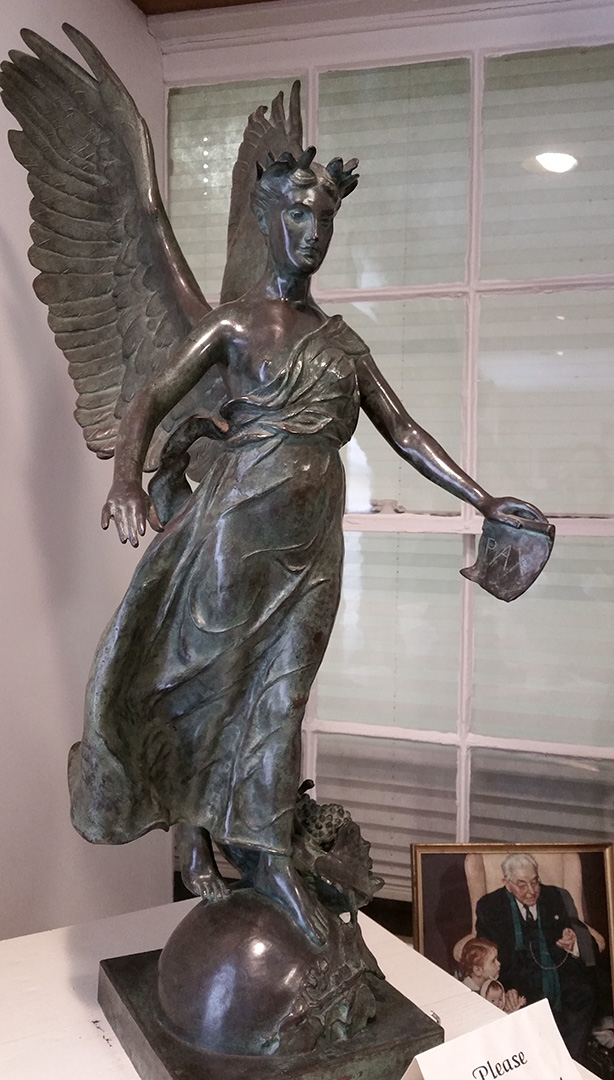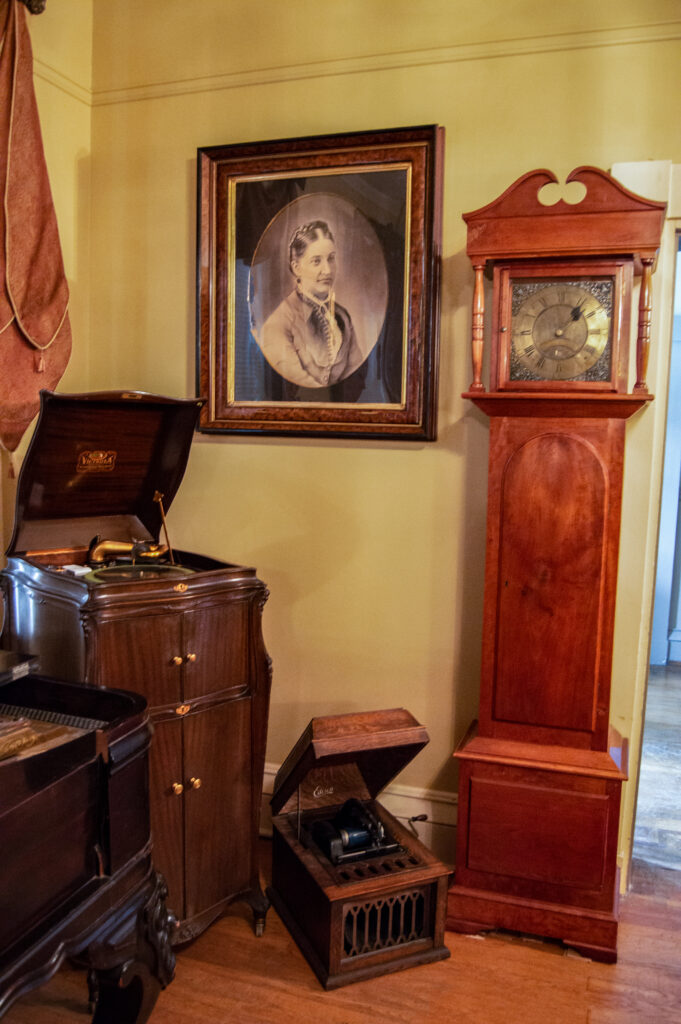 Membership and Giving Opportunities
The Clinton County Historical Society is a non-profit 501 (c)(3) organization governed by a Board of Trustees. Membership in the society is open to all with an interest in the history of our community. Membership is available at several levels and provides a range of membership benefits. The Clinton County Historical Society relies on donations, memberships, bequeaths, memorials, admission, special events, tours and return on investments for its operating funds. The organization does not receive operational funds or continuous support from the local county, city, or state levels.
You can support Clinton County history with a tax-deductible financial gift. Many giving opportunities are available. If you would like to contribute, please make your check payable to the Clinton County Historical Society, with your choice of giving on the memo line. Send to PO Box 529, Wilmington, OH  45177. If you have any questions, please contact Executive Director Shelby Boatman at (937) 382-4684 or via email.
Annual Giving: Contributions to the Clinton County Historical Society's Annual Giving Fund are an investment in our role as a historical and cultural institution.  Revenue generated from this fund goes to support the operations of the Society, including preservation supplies for our collections, educational materials and exhibit preparation and installation.
Bequeath or Memorials: Bequeaths and memorials to the Clinton County Historical Society can honor your passion for Clinton County history or honor a friend or loved one's life and passion for the past. No gift is too small. Please contact our Director at 937-382-4684 to discuss this opportunity in more depth. 
Planned Giving: Numerous options are available through Planned Giving. While we cannot provide financial or legal advice, we would be happy to meet with you and your advisor to discuss your gift plan.
Archives
Archives
The research library has a comprehensive collection of genealogy material. The History Center also maintains archives of photographs; scrapbooks; manuscripts; Township ledgers; club and organization records; topical files; historic buildings; school, business and church/meeting information. We believe the collection and archives should be used to advance knowledge and can be made accessible to serious students and scholars for research. Access to our collection is secondary to its preservation, and will be given or denied by the Director. If you would like to inquire about access, please contact us by phone or email prior to arrival.
Research Requests
Research Requests
For research requests regarding Clinton County history, not related to genealogy, please contact the History Center at (937) 382-4684 or e-mail us at Info@ClintonCountyHistory.org.
Genealogical Research
Requests for genealogical research should be sent via email to info@clintoncountyhistory.org or in writing to:
The Clinton County Genealogical Society PO Box 529 Wilmington, OH 45177
Research inquiries are directed to one of our volunteers, who are onsite 2-3 days weekly. We attempt to answer short, clear and direct questions. A $25 donation toward your research request is requested. Your donation is used to help afford additional preservation supplies and needed equipment. Volunteers do not receive monetary compensation for their work. 
Requests for information should include:
Your Name
Mailing Address
Email
Phone #
Reason for Request (describe who or what you are looking for)
Copy of your Pedigree Chart or Family Group Sheet (if possible) so we know what information you have already compiled.
$.25 per page copy, if more than 10 pages are requested/sent.
If you wish for more extensive research, you may want to contact a paid researcher.
Room Rental and Photography Policies
Photography:
The Clinton County History Center makes images available for a single use, specific project or production. Images furnished by CCHC may not be resold, licensed, rented or reused in any other production or for any purpose other than originally specified.  All requests for photographic reproduction must be submitted to the Executive Director. There is a $10.00 use fee per photograph, plus reproduction costs. The Clinton County History Center reserves the right to refuse any requests.
Room Rental:
Davids Conference & Community Room
Business Hours – (W – F, 8:00 a.m. – 4:00 p.m. and Saturdays 10:00 a.m. – 2:00p.m.)
Room may be only rented for organization meetings and educational purposes/programming at a rate of $25 an hour. The price of renting has increased due to COVID-19 incurred costs and increased sanitization demands. Room can accommodate around 90 people. Includes Kitchenette (fridge, microwave, sink, dishes, etc), chairs, tables, and tablecloths (if needed). Climate controlled heating and A/C. Private restrooms and secluded space with rental.
Non-Business Hours – Please contact us to discuss availability of non-business hour rentals.
The History Center retains right of refusal.
Clinton County Historical Society Collections
General James W. Denver
Civil War general, territorial governor and potential presidential candidate, James W. Denver personified "manifest destiny."  A room of the museum contains General Denver's personal library and artifacts from his military and governmental careers. Born in 1817 near Winchester, Virginia, he and his family moved west to a farm near Wilmington in 1831. After receiving a degree from the Cincinnati Law School, he moved to Platte City, Mo., and opened a law office with a partner. Always in motion, Denver recruited a volunteer infantry in the war against Mexico and served under Gen. Winfield Scott. He led a party overland to California during the Forty-niner gold rush. He served in the California State Senate, was appointed secretary of state from California and elected to Congress from California in 1855. That same year he married Catherine Rombach, daughter of Matthew Rombach of Wilmington where the couple made their home. Involved in national politics, Denver served as commissioner of Indian Affairs in 1857, governor of the Kansas Territory during the era of "Bleeding Kansas," and in the Civil War became brigadier general of all federal troops in Kansas. In the later years of Denver's career, he organized a Washington, D.C., law firm representing Indians against the U.S. government for treaty violations. Upon his death, he was buried in the Denver Family plot located in Sugar Grove Cemetery (Wilmington). The home where he and Catherine resided, Rombach Place, while raising their family still stands and has been the location of the Clinton County Historical Society's museum since 1955.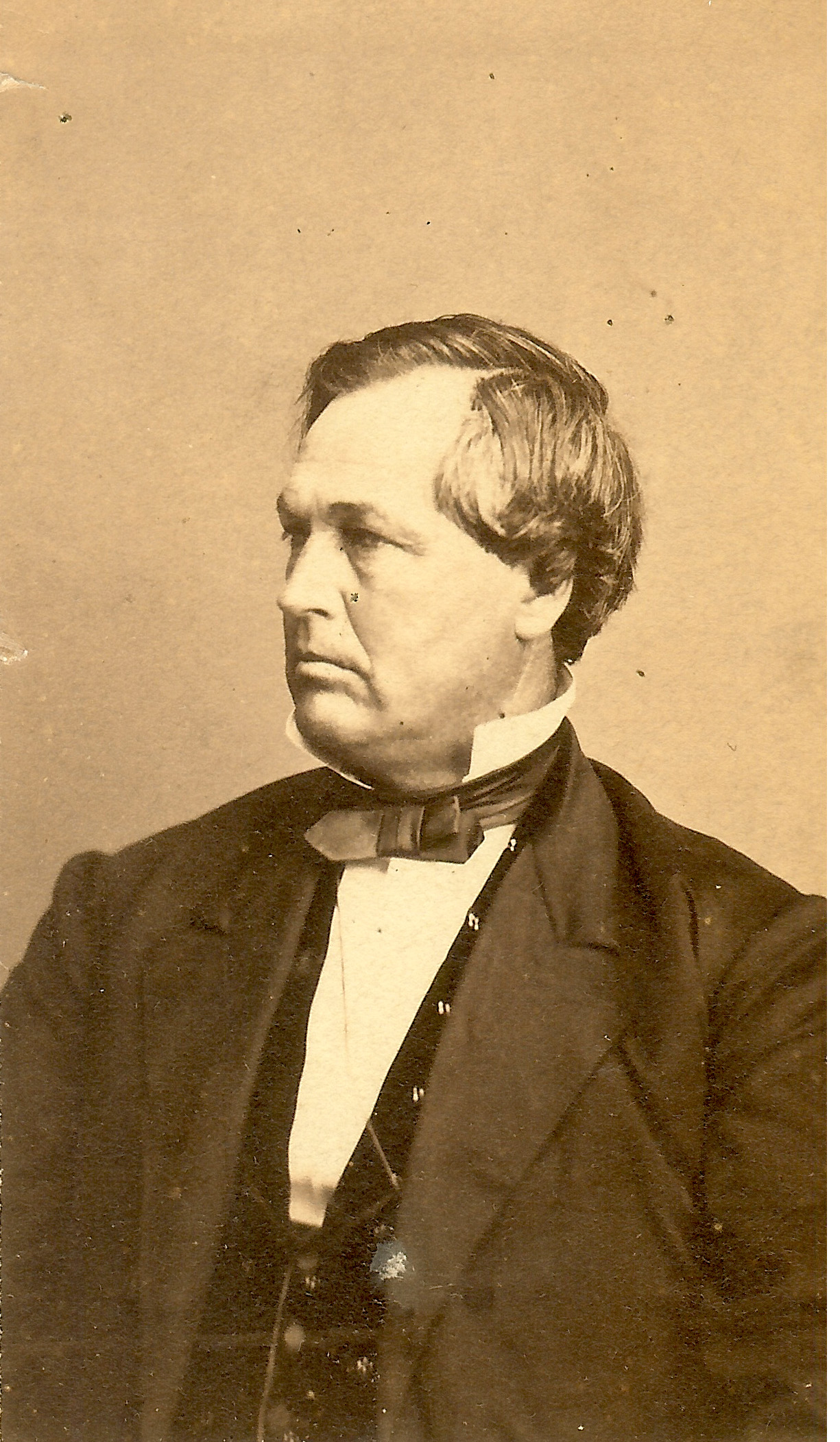 Eli Harvey, Artist and Sculptor
Eli Harvey, internationally known artist and sculptor, was born Sept. 23, 1860, near Springfield Friends Meeting in Clinton County, and died Feb. 10, 1957, at his home and studio in Alhambra, Calif. His ashes are buried at the Harvey family lot in Springfield Friends Cemetery.
Before his death, Harvey gave many of his paintings and bronzes to the historical society.
The collection of paintings and sculpture shown in the gallery at Rombach Place are by Harvey including a bronze copy of a bull elk, symbol of the Order of Elks, commissioned in 1904.
Specializing in the sculpture of animals, Harvey's credits include Brown University's mascot, "Brown bear," the J.C. Penney bull for mail order merchant James C. Penney, and decorations for the lion house at the New York Zoological Park.
Carl Moon, Photographer of the Southwest
Our large display case located inside the Native American Heritage Exhibit provides a gallery for the photographs of Southwest Indians taken by Carl Moon in the early 1900s. Originally from Wilmington, Moon was among the first to photograph American Indians in their homelands. Drawn to the Southwest by his abiding interest in Indian culture and an intense desire to preserve what he saw as a vanishing way of life, he spent many years traveling and taking pictures among the various tribes, primarily in Arizona, New Mexico and Oklahoma. His wife, Grace Purdie Moon, once remarked, "Mr. Moon and I like to write about Indians and picture them because I think way down in our hearts, we almost wish we were Indians ourselves."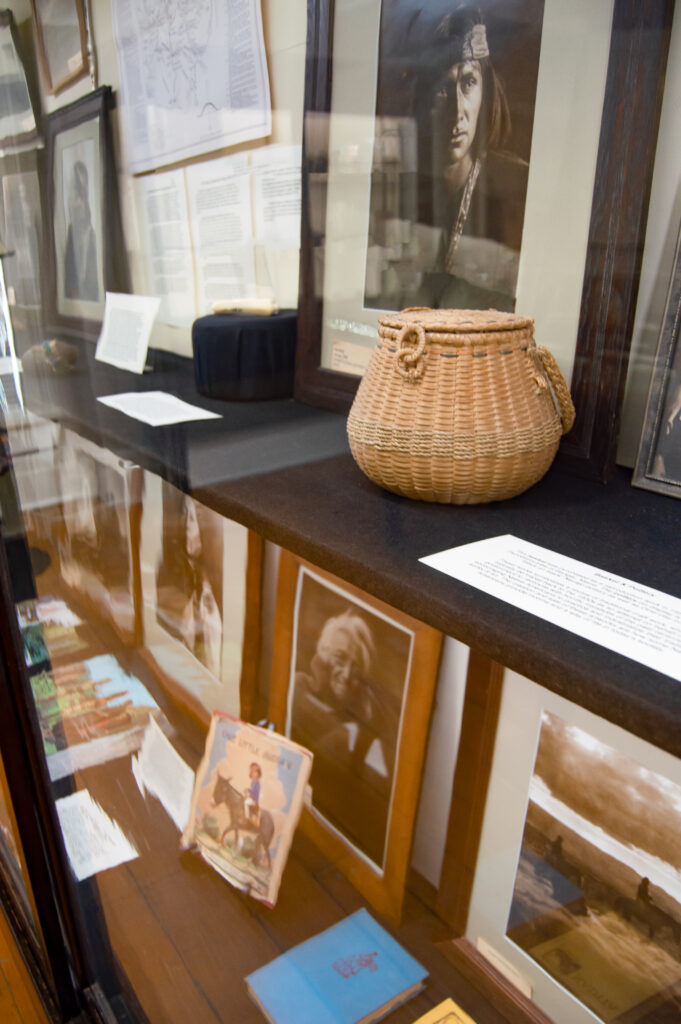 Native American Heritage
A new exhibit featuring numerous arrowheads, projectile points and prehistoric items found in Clinton County, Ohio. This room was brought to live with the help of intern Mikaela Prescott, a former history and public history major at Wilmington College who graduated in the Spring of 2021. A reproduction of the historic Wilmington Tablet is on display as well as a number of portraits taken by renowned photographer and Clinton County native, Carl Moon. Prehistoric fossils and archeology records by Dr. George Austin are featured along with a +10,000 year old wooly mammoth tusk donated by the family of Lucile Fisher Hadley. 
The Toy Room
Reflecting play from the mid-1800s to the early 20th century, the toy room features toys that were used for play as well as beyond, such as for memorializing a lost loved one. This room contains dolls, carriages, play dishes, a carpentry box, scooters, marbles, and more. Made of porcelain, glass, wood, tin and cast iron, these toys were made to last a lifetime.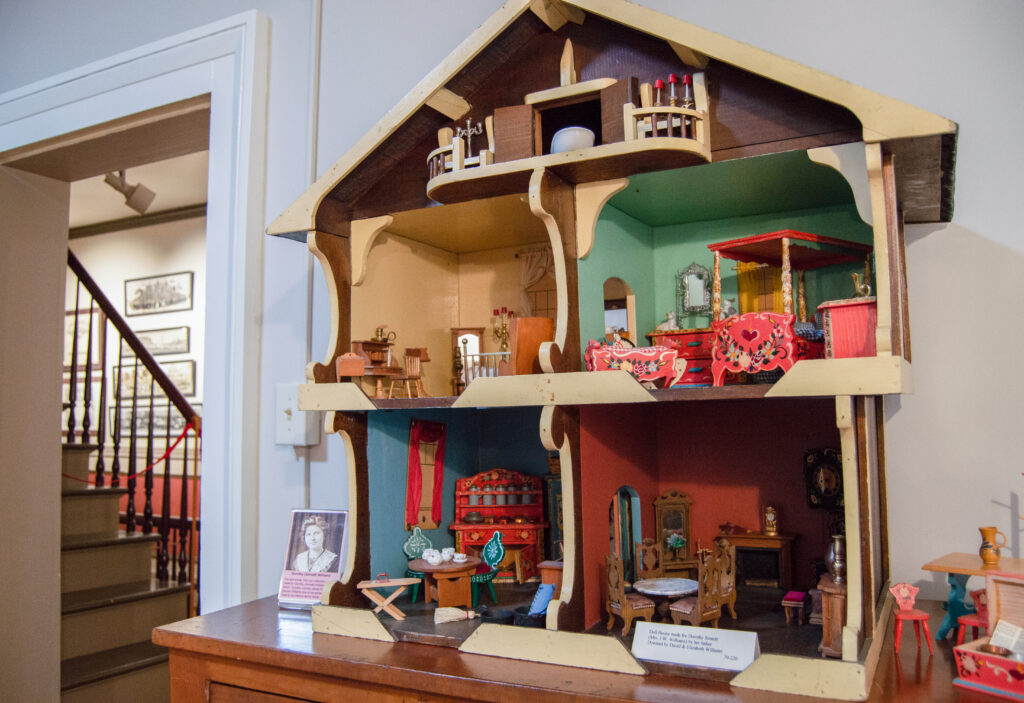 The Textile Room
The Textile Room includes a variety of Quaker (the Society of Friends) quilts and coverlets. Quakers played an early and prominent role in the settlement of Clinton County. Quaker influence remains today with over a half dozen active Quaker meetings in Clinton County. In 1870, a Society of Friends purchased the struggling Franklin College and established the Quaker college Wilmington College. Of particular interest in the Textile Room is the abolitionist quilt, circa 1842, made by abolitionist Quakers in Clinton County and Newport, Indiana. Measuring about six feet square, each of its 16 blocks is signed by its Quaker woman maker.
While the quilt's exact cause for creation remains unknown, scholar Ricky Clark, in the craft magazine "Piecework" (July/August 1995), suggests it was made by the women to strengthen bonds between the two Friends meetings during the abolition separation of 1843, "when Quakers were so divided over the question of abolition that members left or were excluded from the particular Quaker meetings to which they belong."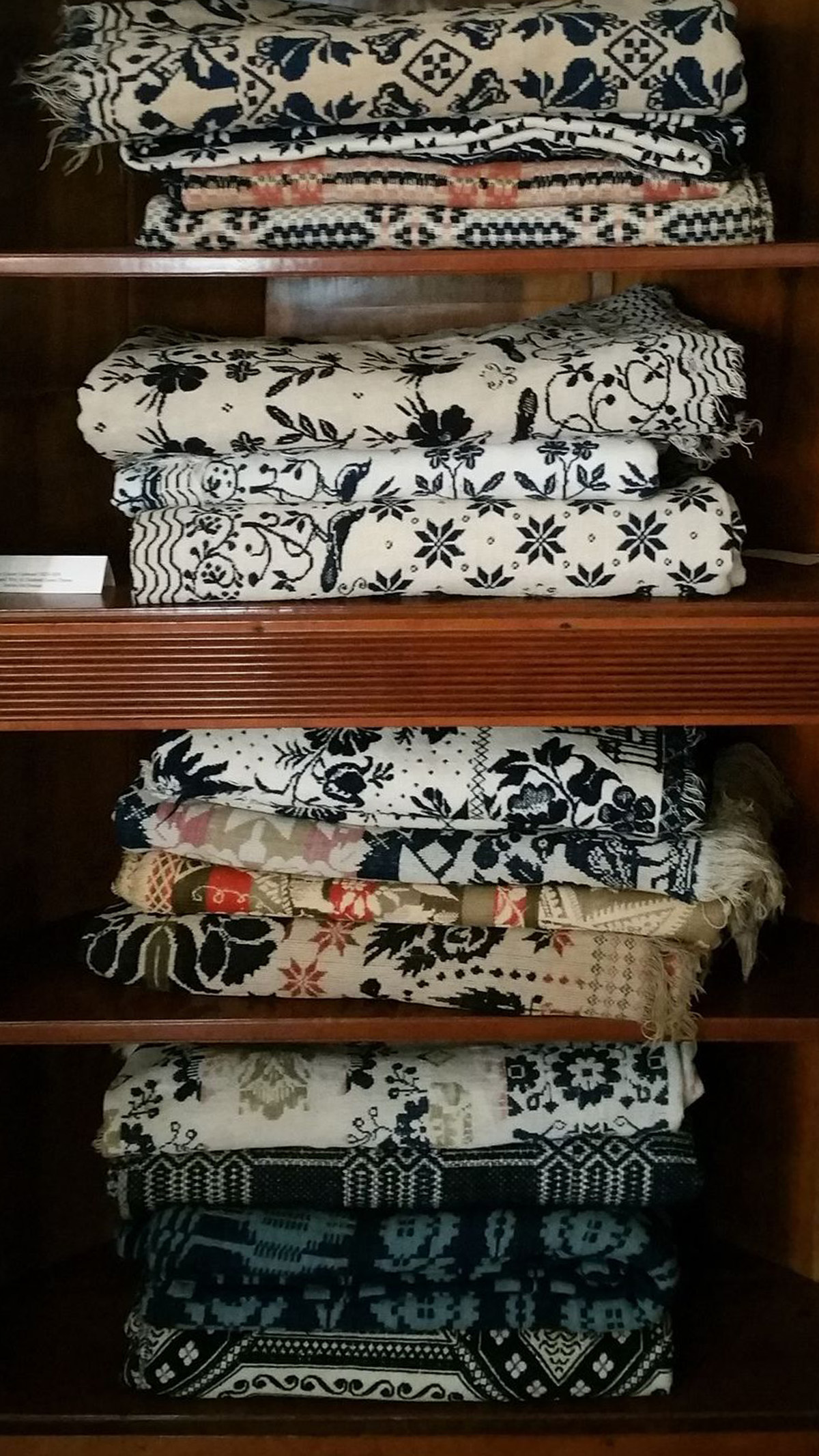 Artifacts, Clothing, Furnishings, and Photograph Repositories 
The Society has a large textile collection (not on public display) and periodically features different eras of fashion. We also house a large photography collection which features historical images from across Clinton County, ranging from the early 1800s to more present. The photography repository is not open to public, but images are available for reproduction. Many of these images are featured weekly in our Throwback Thursday partnership with the Wilmington News Journal. Reproductions can be made in-house with 4×6 and 5×7. Should you need large images, a USB flash drive can be provided and copies made elsewhere. The Society does ask for a minimum $10/per image reproduction donation, which is used to purchase new archival materials and supplies for the images.