The following speech was given by Executive Director, Shelby Boatman during the 2023 City of Wilmington Memorial Day Service at Sugar Grove Cemetery in honor of the ultimate sacrifice given by CPL JW Denver Williams Jr. The historic information provided was sourced from the Clinton County History Center's archives and collection. To listen to the speech in its entirety, please CLICK HERE for our Youtube page.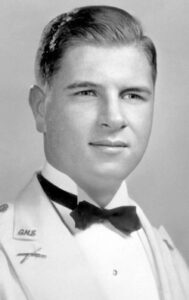 When I was asked to speak during today's Memorial Day services, I asked myself what type of speech would be meaningful and impactful? 
After much thought, I settled on the meaning of Memorial Day: 
And here's where you might expect me to say "…originally called Decoration Day, due to the early tradition of decorating graves with flowers, wreaths and flags, Memorial Day is a day for remembrance of those who have died in service to our country."
But, what does Memorial Day truly mean to Clinton County and Clinton County families? How does it apply to us?
Remembrance for those veterans we've lost in the line of battle isn't just a single day denoted once a year. It's something they… we… feel everyday. 
Now, working at the History Center tends to allow me to remember often, but I want to take you all back… in time… to April 15, 1942.
 A young, bright-eyed Clinton Countian had just enlisted in the US Marines. Flashforward 3 years, and he is caught in the midst of World War Two – fighting in the Pacific Theater.
His name was CPL JW Denver Williams Jr.
In April 1945, while fighting on land, JW was hit by shrapnel and incurred a serious leg injury. A telegraph was sent to his parents informing them of the news. It read… (scroll side to side to read the full text)
"Headquarters US Marine Corp - Washington / May 9th, 1945. 





My dearest Mr. & Mrs. Williams:




A brief report has just been received that your son, 
CPL James WD. Denver Williams Jr, USMCR, sustained a 
shrapnel wound of the legs in action against the enemy 
on 15 April 1945 at Okinawa. Your anxiety is realized, 
and you may be sure that any additional details or information 
received will be forwarded to you at the earliest 
possible moment. Please notify this office of 
any change in your address. 





Sincerely yours, Josephus Daniels Jr. Captain US Marine Corps."
For this valiant service, Williams was awarded the Purple Heart.
A month had gone by as JW recovered in the hospital overseas. In a short V-Mail letter dated May 11, JW had written to his family stating he had returned to his unit on the front after recovering.
Like most military men and women that we all know, JW wanted to serve his country again. He asked to return and be with his fellow Marines when they went back out to the battlefield. Upon his return, it is reported that William's took over as squad leader – a sergeant's job, which he had just been promoted to. 
On May 17, 1945 William's troop was in the midst of battle on Sugar Loaf Hill – a 230 ft. hill situated on the Southern End of Okinawa. The first of three hills, Sugar Loaf was an unassuming little piece of high ground… until it wasn't. 
A mission that was expected to take no more than a day, lasted upwards of 8. In the end, the fight for the seemingly insignificant land cost the 6th Marine Division over 3,000 casualties. 
JW Denver Williams Jr.'s platoon was one of the first platoons to go over during the battle.
At 23 years old, one of Clinton County's own lost his life while serving his country.

A Requiem High Mass was given at St. Columbkille Church the Friday following his passing. 
Fellow Marines wrote to the family after the news and all reiterated how their comrade possessed great humor and friendliness; that he was a friend to everyone, and how both his superiors and those beneath him liked and respected his abilities! 
JW Denver Williams Jr. received a half page article denoting his passing on June 5, 1945 in the local paper. The title read, "James W. Denver Williams Killed on Okinawa, May 17".
A tribute frame and the memorial flag given to his family have been on permanent display at the History Center in honor of JW. A city park, bearing his name at the entrance, on Rombach Ave. has welcomed children and families for many years as a memory to his service. And, a headstone just down the road behind me in Sugar Grove marks his legacy for eternity.
So, as we leave this place today and go about our typical cookouts and gatherings, I challenge you to remember the real reason for Memorial Day. The lives lost in service to our freedom, the families still grieving their loved ones, and the many Clinton County veterans who died in action while serving their country.