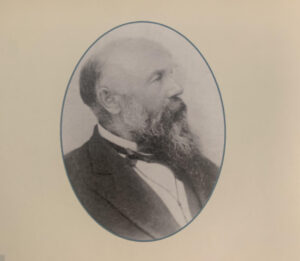 This next article in the Sugar Grove Cemetery series focuses on the landscape gardener that designed the layout of Sugar Grove: Leo Weltz. Theodore Leopold (Leo) Weltz was born on January 17, 1825 in Magdeburg, Germany (Prussia) ("History of Sugar Grove"). The social order during this time period usually only allowed for the elite and intelligent to be formally educated. However, Weltz's father was an educated man himself, and saw after Leo's welfare and education. Leo's father helped develop and nurture his love of gardening and horticulture. Once Leo got into higher education, he took off in plants and gardening. Weltz attended Heidelberg University and, as a student, designed the university's Botanical Garden (Chroust 2010). After completing his degree in horticulture and landscape gardening, Weltz was sought out for many prestigious landscaping and botanical projects. 
He was given a position in the Imperial Botanical Garden of King Wilhelm, and then later became the head gardener for Nicholas I, Czar of Russia (Chroust 2010). In 1851, Leo left Germany to come to the United States. He settled first in Huntington, West Virginia, and a year later, he made his way down the Ohio River to Cincinnati where he took a job at the William E. Mears nursery in Mt. Washington ("History of Sugar Grove"). In 1855, Leo Weltz started his own nursery business and soon took on some impressive landscaping jobs. These included designing the grounds for the home of  Salmon P. Chase and other large estates in the area ("History of Sugar Grove").
Weltz was employed in 1857 by a group of concerned citizens in Wilmington, Ohio who had formed the Sugar Grove Cemetery Association (Six and Twenty Club 1989). Sugar Grove Cemetery was named for the large number of sugar maples growing on the original site. As discussed in the previous article, Weltz followed the philosophy of cemetery planning that believed that a cemetery should be park-like where people could drive in their carriages to visit deceased loved ones. The Association bought 23 acres on the west side of Wilmington, and Weltz started his work on March 5, 1858. He presented two very different layouts: one being an elliptical form with curved lines, and the other making the lots square or bounded by sight lines. Just a few months later the rugged, big-hearted German with an encyclopedic knowledge of horticulture unveiled Sugar Grove, with its hundreds of varieties of trees and plants, gracefully winding drives, and wide grassy spaces ("History of Sugar Grove").
Though many of the trees Leo Weltz planted at Sugar Grove have succumbed to age or disease, some of the originals still stand, including domestic types such as the sugar maples that inspired the cemetery's name, other maple varieties, oaks, beech trees, hickories, and assorted evergreens. Among the types that Leo Weltz imported were a Chinese chestnut, an amur cork tree, a cucumber magnolia, and a bald cypress. Reflected in Weltz's attitude, love and passion of horticulture, the beauty of Sugar Grove Cemetery and his other creations is the philosophy to which he adhered and often stated, "There is no melancholy in nature" (Chroust 2010). Those who enter the peaceful, lush, welcoming grounds feel the full effect of Mr. Weltz's philosophy of design.
Works Cited 
Chroust, Carol. "Weltz left his mark on many area communities." Greene County Dailies (Xenia, Ohio), December 17, 2010. 
"History of Sugar Grove." Wilmington, Ohio. Accessed November 13, 2020. https://wilmingtonoh.org/municipal-services/sugar-grove-cemetery/history-of-sugar-grove/.
Six and Twenty Club. "Report on Sugar Grove landscapist." March 3, 1989.
This article was published by Clinton Co. History Center intern, Jenna Fawcett. Jenna Fawcett is a senior at Wilmington College double majoring in History and Political Science with a minor in Race, Gender, and Ethnicity Studies. Her hometown is Tiffin, Ohio. Jenna is a student worker at the Peace Resource Center and enjoys going to Spring Lobby Weekend with the Friends Committee on National Legislation (FCNL).